I made this the other night, & it was a huge hit! We also tried it with tortilla chips as the base instead of sweet potato fries, but the fries won, in my opinion.
There's a newer restaurant in our town called Grubstak, & I've already had it a couple times. They have some good options for layers on your "stak," but I knew I could do better. ;) So here's my asian/mexican infusion "grubstak" recipe: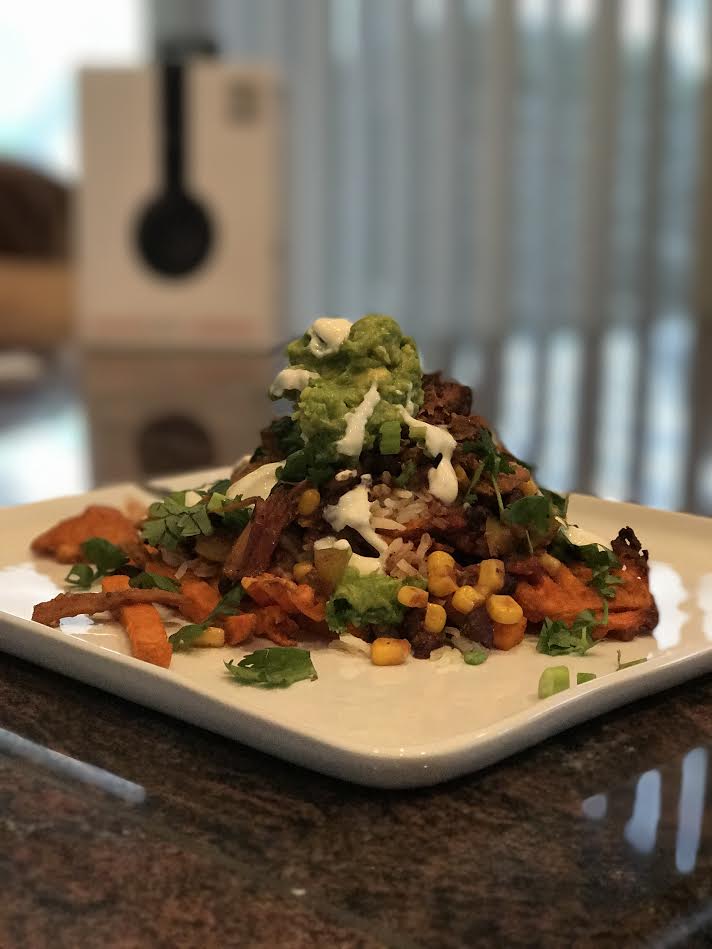 Layer as follows…
1. Sweet potato fries // I used frozen & baked them according to the package
2. Jasmine rice // cook according to package OR like this: heat coconut oil & rice in saucepan until lightly golden, add chicken broth, cover & simmer for 15 minutes
3. Chili // sauté chopped green pepper in coconut oil until softened, add corn, black beans, diced tomato, chili powder, onion powder, garlic powder, paprika, sea salt, pepper, & oregano // simmer 15 minutes
4. Chicken // put bonelss, skinless chicken thighs in Crock Pot w/ a little coconut oil, garlic salt, pepper, teriyaki coconut aminos, fresh chopped cilantro, & fresh lime juice // cook a few hours until fork tender // shred
5. Guacamole // smashed avocado, lime, & sea salt
6. Add chopped cilantro & green or red onion
7. Top with ranch dressing OR (for a dairy free & egg free option) cilantro lime dressing: put a bunch of cilantro, egg free mayo, 1-2 tsp sugar, & fresh lime juice in blender or food processor // blend until smooth
Let me know if you try this recipe or come up with your own little stak! The options are endless!!