Over a year ago I posted a recipe for Thai Peanut Chicken Nachos. With my love for peanut sauces, this really hits the spot! It's also one of my husband's favorite "meals" (if you're ok with having nachos as a meal). Just a few months after posting the recipe, my husband & I went gluten free (for health purposes – you can read about why HERE). The way to switch this recipe to gluten free is actually quite simple, but after making it a few more times, I've made it even better than before & had many requests to share the revised recipe. The hard part about giving you a recipe is that I really don't like recipes haha. I use them a lot, but I typically don't measure things out. I like to cook without mathematical equations & restrictions. This is why I'm terrible at baking. I honestly usually "add a little bit of this & a little bit of that." But because these nachos are soooo good, I'm going to give my best shot at telling you how to make this gluten free nacho recipe!
For the Chicken:
2 boneless, skinless chicken breasts
coconut oil
gluten free soy sauce
Spray or coat the bottom of your slow cooker with some coconut oil. Place the chicken breasts into your slow cooker & add about a tablespoon of GF soy sauce. Cook for about 4 hours or until your chicken is cooked through & pull-apart tender. I usually flip the chicken about halfway through & add water or more soy sauce if it's getting dry. Shred the chicken with two forks & season with a little salt.
For the Sauce:
1/3 cup organic peanut butter
3 tsp freshly grated ginger (more or less based on your love for ginger)
3 tbsp GF soy sauce
1-2 tbsp raw honey (depending on how sweet you want it)
1 tbsp red wine vinegar
1 tsp sesame oil
1 tsp olive oil
water to thin
Cook above ingredients in a sauce pan on low heat & stir often until it becomes a smooth sauce. Once smooth, coat the shredded chicken in the sauce.
For the Toppings:
Tortilla chips
Shredded Monterey Jack/Cheddar cheese
Fresh chopped cilantro
Sliced avocado
Chopped green or red onion
Chopped peanuts
Sour cream
Sriracha
Fresh lime juice
Place the chips in a baking sheet & cover with the chicken. Add shredded cheese (as much or little as you want). Broil in the oven for 2-3 minutes or until the cheese is melted. Don't burn your chips! Top with cilantro, avocado, onion, peanuts, & sour cream Sriracha sauce – mix about 1 cup sour cream & 1 tsp Sriracha (more if you want more spice). Finish with a sqeeze of lime!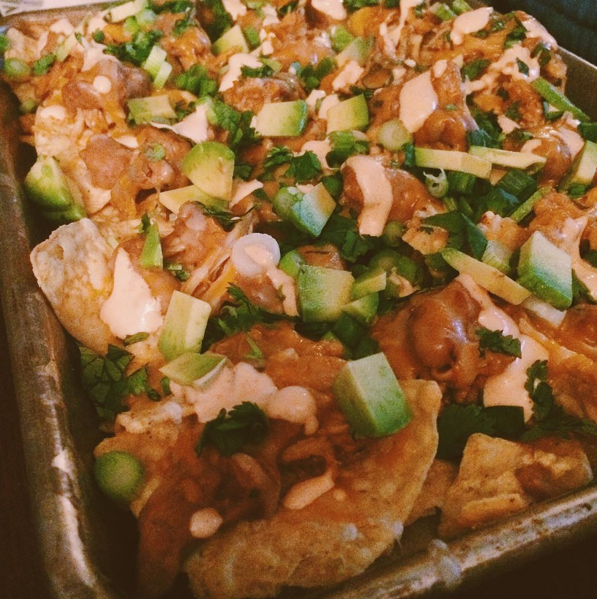 You may have noticed a couple ingredients from my first recipe missing. That's mostly because you can add or take away just about anything you want to try. Pinto beans & shredded carrots are good, but I love the simplicity of this revised recipe, & I feel like adding more ingredients just takes away from the flavor or the peanut sauce.
*I usually use organic chicken, tortilla chips, peanut butter, sour cream, & coconut oil.
I would love to hear from you if you have tried this recipe or if you want more recipes! Comment below.